Becoming a Survivor: Fulfillment Through Art
My Senior Thesis encompasses everything I've learned about art and art history throughout my four years at Hastings College (located in Nebraska). The requirements to fulfill my thesis included creating an artist lecture and hosting an art show. After much thought the summer before my senior year, I made the difficult decision to continue to create works of art depicting domestic violence, but this time I would paint the journey from 'victim' to 'survivor' of domestic violence. I interviewed multiple survivors in my community, as well as survivors from out of town, out of state, and even out of the country. The stories I've heard and the lessons I've learned from these brave souls will stay with me for the rest of my life. I included my own memories about my time as a domestic violence victim, from the first fight to the day I became an independent adult. Every story had two things in common: strength and growth. In my series, we follow a young woman, who represents all victims of domestic violence (men, women, and children). She begins her story in the darkness and chaos of the abuse she experiences regularly. Her dress becomes a symbol of the scars and memories that will stay with her forever. As the paintings progress, the woman finds hope, and the courage to leave her abuser and begin anew. With the help of friends and family, she continues to experience the wonders of life. In the final painting, the woman no longer appears; she's crossed the horizon as a new day begins.
Powered by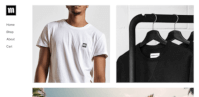 Create your own unique website with customizable templates.